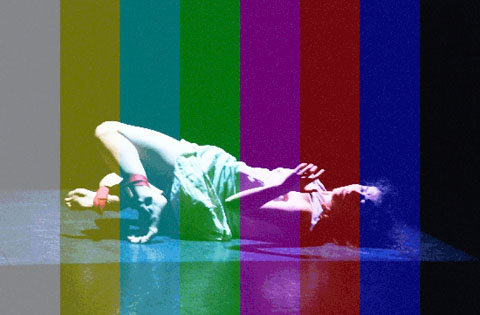 Body of Knowledge
Curated by Julieta Maria
with Matiz-Nuance MultiArts Movement
With works by Olga Barrios, Claudia Bernal, Pierre-Yves Serinet, Rodrigo Hernandez-Gomez, Jorge Lozano.

Tuesday September 14th 2010
Time: 7-9 PM

Wychwood Theatre/Artscape Wychwood Barns
601 Christie Street
Toronto, ON, M6G 4C7

Our body is not only physical; it has a social dimension that is marked by others, informed by others. What the body knows is rearticulated in larger cultural formations and experiences that force the subject to reinterpret herself. In the global flow of bodies of exiles, immigrants and refugees, the subject is vulnerable, oppressed by different forms of violence that can be evident or invisible, embedded in the systems that we take for granted.

Body of Knowledge looks at the way in which five artists articulate issues of social oppression, informed in different ways by the Other that they identify as part of their own story. Either making the work about their struggle or engaging in different forms of collaboration, these works align with epistemological systems which recuperate the importance of the body in signifying acts, making of art a site in which the knowledge that is untranslatable or unrepresentable can be addressed.

Choreographer and dancer Olga Barrios, lending her body to present the experiences of others, acknowledges the role that the dehumanization of war in Colombia plays in her own story. Interdisciplinary artist Claudia Bernal and actor and activist Pierre-Yves Serinet take literary passages of two of the most important figures of Chilean resistance against the military dictatorship, and reinterpret them into actions and movement. Rodrigo Hernandez-Gomez, through the new(be)comers art research project, explores and documents the knowledge that adult newcomers bring with them when they arrive to Toronto. In his experimental documentary, Jorge Lozano reflects on youth and gang culture in marginalized neighbourhoods in Cali, Colombia, using formal strategies to investigate how the environment affects the behaviour and emotions of individuals.

The artists will present their work in the first half of the program and will engage in dialog in the second half.

Body of Knowledge is part of a series of presentations and round table discussions organized by Matiz-Nuance MultiArts Movement. This series, which addresses the political through Latin American artists in Toronto, will integrate different artistic and academic perspectives to generate discussions and dialogue between the public and participating artists.

This series is carried out in collaboration with e-fagia organization and is co-presented by aluCine Festival and Allende Arts Festival. Thanks to the support of the Ontario Arts Council.